Field Trips
Have you been a student or a teacher and wanted to visit Turpentine Creek Wildlife Refuge? 
At Turpentine Creek Wildlife Refuge we allow field trips here. When you come for a field trip we try to walk the group around our facility. When we walk around the facility the animals would hopefully be a little bit more active and interested in why there are kids walking around.  The walking tour is about ½ mile downhill and uphill. When you visit, please make sure you have the right shoes and clothes on. We cancel tours when there is severe weather, and we continue tours if there is just rain. 
For the walk around the tour loop, your group will be guided by one of our education team members. We will stop at each enclosure and talk about each animal, telling you their name and how they came to be at turpentine creek wildlife refuge.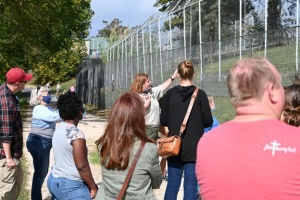 Programs
After your tour, you will be able to walk around in the discovery area if you didn't get to do that before. We have extra programs we can do with your group at no extra cost. Those programs are:
Wildlife Discovery Table – Get up close to our replica nature items! Learn more about what animals that the replicas come from and discover more about wildlife.
Native Arkansas Wildlife – Arkansas is home to various species of animals that may not always be seen. Discover more about what wildlife can be found in the Natural State that also call TCWR home. 
Savannah Explorer – Discover more about the African Savannah and the animals that live there! 
Predators not Pets – Explore why exotic animals do not make good pets by getting a closer look at some of their destroyed toys.
How do you Bear Up? – Bears are amazing animals that have adapted for survival in the habitats that they live in. Their size, color, and diet all play a role in their survival.
We do have a big open grassy area by our public restrooms where your group can have lunch if you want to. 
Pricing and Scheduling
If you come to visit, the pricing for the tickets are dependent on how large your group is. The teachers and bus drivers always get in for free, and if you have chaperones they will get charged the group adult price of a ticket. 
If you would like to schedule a field trip out to our facility please email us at education@turpentinecreek.org and fill out our field trip form Group-Reservation-Form.pdf (turpentinecreek.org) and we can schedule your group. You can also call us at 479-981-2625.