Have you graduated with an animal related degree recently? Are you about to graduate with an animal related degree? Need an internship to gain experience? At Turpentine Creek we offer animal care internships and education internships.
For our animal care internships, we can have up to 16 interns at our facility. When you are in the animal care internship,  they are responsible for the daily care of tigers, lions, cougars, black bears, a grizzly bear, a Russian brown bear, leopards, African servals, bobcats, a jaguar, hybrids, and a hyena. Duties include animal husbandry, enrichment, record keeping of animal behavior, educational public tours, and customer service. The main responsibilities are feeding, cleaning, and maintaining the animals. What animal care internships do with feeding is meal prep, weigh out protein and put in containers for the animals. Then at feeding time, they feed the animals on a metal pan attached to their nighthouses. Cleaning includes picking up after the animals in their grassy habitats and their nighthouses where they can sleep and eat. Safety is important when working with carnivores which is why we have a lot of safety precautions in place. Animal care also helps the education team with some tours throughout the day, you will be responsible to educate the public about our animals and what we do at TCWR. Animal care interns get the opportunity to help animal care staff with medication for the animals and even help transport animals from one enclosure to another while maintaining our safety protocols.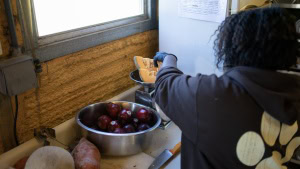 Education internships are a little different than animal care internships. Education interns get to help the education team with tours throughout the day. Interns get to help with school field trips that visit our facility. They also help with the planning of educational programs to present to the general public at TCWR. At times, they are also able to help out with offsite visits, where we can take replica skulls and fur to show off some of the animals that call TCWR home.
Internships last for 6 months. We have a spring internship which occurs February 1- August 27 and the deadline to apply is November 1st. We have a fall internship which occurs August 15- February 12 and the deadline to apply is April 1st. The interns who join the program get a stipend every week of $100. It can increase every 6 months if you apply for another internship. An internship can last up to 2 years in total if approved for each 6 month session. TCWR provides housing, with utilities, laundry, internet, a/c and heat, and TV service. Interns must have a bachelor's degree in any animal related field. 
To apply, email your resume, cover letter, with 2 professional letters of recommendation to education@tcwr.org for Education Internship or Emily McCormick at emily@tcwr.org for Animal Care internship.